University of Exeter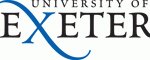 Volunteers help Exeter University to enhance the student experience and improve career prospects, bring their industry expertise and insights to the curriculum, support the alumni community, and provide valuable strategic advice and guidance to University staff.
The Career Mentor Scheme brings bright, enthusiastic students together with successful professionals in mutually beneficial mentoring partnerships. The Scheme gives students the opportunity to get an insight into their preferred employment sector and develop personal networks and employability skills.